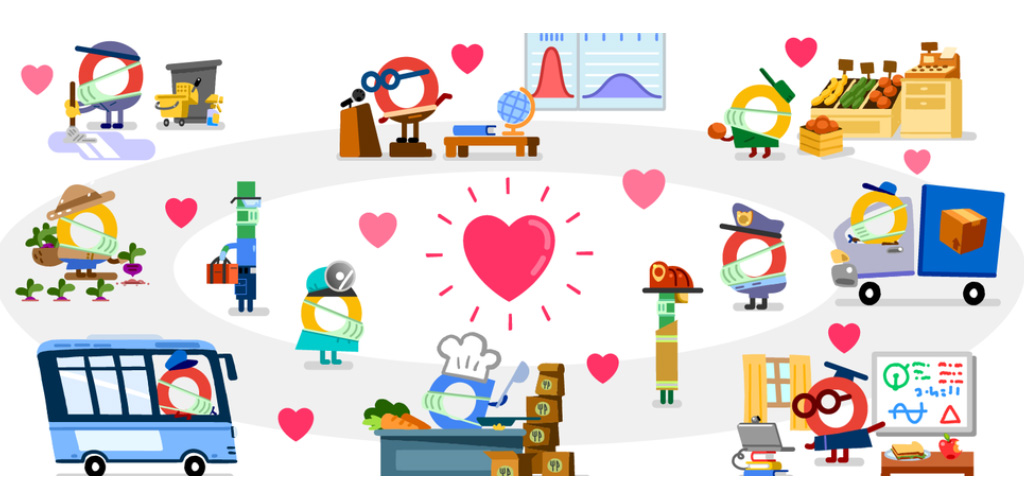 The search engine giant Google has given thanks you to all coronavirus helpers by providing them hearts and creative doodle on this Saturday that includes nurses, farmers, delivery staff, doctors, sanitation workers, emergency service workers, grocery workers, and much more.
Google Doodle says: "Thank You: Coronavirus helpers"
Google India itself is an Internet buff, and it also acts like an occasional doodler, where Twitter bio urged its 815.3K followers. All followers are staying at home currently.
California based company is thanking and honoring to the corona warriors with GIF doodle.
The tech firm has started to thank the nurses, doctors, medical workers, etc.  They have made a complied animated doodle, which shows the efforts of the helpers and how they are making our life more comfortable.
The basic theme, which they have made, starts from 'G' means Google, and then they are sending the heart of appreciation letter where 'e' stands for to help coronavirus helper.
Google has mentioned in doodle website that how coronavirus forcing everyone is help each other. They are launching a doodle series, where everybody will recognize the front liners.
Google also appreciates those users who praise the front line corona workers by giving the designated GIF. You can search them in 'GoogleDoddles' through your favorite social app.
In this time, Google thought something good for front line workers and launched doodle series for a longer time. Before also Doodles series was available but only for several weeks like Olympics to World Cup, Christmas to New Year, etc.