As Android, iOs, Cross Platform Mobile app development company, We have come up with the best solution for Android, iOs and cross platform mobile applications where everything from concept, design, application development and deployment would be handled by our experts. We have teams which consist of developers, designers and strategist who will help customers to get the best product. We have 2+ years of experience in custom mobile app development & cross platform mobile application development using react native and make sure that customers can fulfil requirements through the app.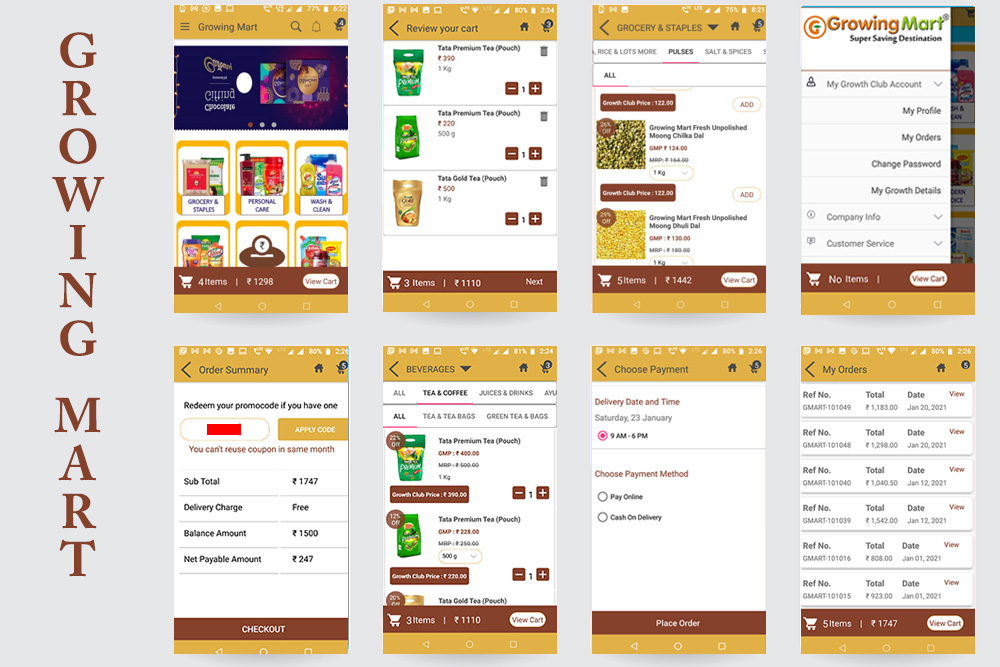 If you are having some idea regarding mobile apps just come to us where we will refine it and make sure to achieve the company's objective. We are here to help you in getting the best app that is within your budget and timeframe. Our main aim is to satisfy our customers and so maintain the transparency process where customers can keep eye on the progress of the project.
Why choose Raghwendra web services?
We develop the user-centric moble app and so stress mainly on the app design. The app is considered conclusive only if gives the same result to end-users.
Our team includes you while developing apps so that you can check out the progress. We consider your views while designing and developing to come up with an app that will work on your market strategy.
You will be part of every process and also work with our experts so that the main goal of the app can be fulfilled.
View Android app on Google play store click here
Our Mobile Application Development Services 
The demand of android apps is increasing day by day and it has made our life quite easy. Today we can manage everything through our android mobile because of apps. So, we have a special team who are professional and can bring a solution to all your problem. Our mobile app development team make sure that the real purpose of the app s fulfilled. 
We are having proficient IT experts who can help to connect the database to your business. We are also availing services for your current business and help to access data for your customers. Our mobile app development team is very experienced and professional to carry out web services according to the requirement of business and customers.
There was a time when the iPad or iPhone was rarely seen but today it is quite common just like android mobile. But it is not easy to develop an ios app and so we have come up with the best team that can manage the app easily. Our ios native development gives quality apps that are compatible with different hardware.
The hybrid app where a single codebase can work with android and ios can prove very effective. We have experts who use native frameworks or Ionic along with HTML 5 to access native features. The use of HTML 5 can help to come up with a hybrid app but it has some limitations regarding functionality.
We have a team of experts in web development who work according to the requirement of business and companies. Clients should go for web development as it is more effective as compared to any native mobile app.
To keep your app up-to-date and make it work run smoothly we offer support and maintenance to our end customers. This service would be based on your requirements and budget.
If you want to have a successful mobile app, promotion is an important factor. We are here to help you in promotion through promotional sites and social media pages. Our expert works on every possible way to make your app stand out in the crowd.
If your app needs an update go for our development team who will review your existing code and help to update it by resolving all issues. They can also help to add some extra functionality to the app.
Which types of apps are developed at Raghwendra web services?
Financial apps: This is the field that requires security, safety and reliability. Our team of developers is aware of all regulations and other complaints which helps to create high-quality financial apps.
Business apps: Today people are expanding their business on a large scale which makes it quite difficult to manage. But with mobile development, as it becomes easy as you can remotely manage employees, workers and even tasks. 
Promotional apps: Business is getting online today and it requires effective promotion which is possible through apps. Our team has good experience in their field that can help the business to get loyal customers and have brand awareness.
Digital business: Today digital platform is ruling the world and so many businesses are looking to offer their service through such a platform. We can help to develop apps for web and mobile that will be compatible with business.
Our main aim is to satisfy our customer requirement and so our mobile development team stays in contact with clients. This will help to make timely changes and the final product will satisfy business requirements. One who is willing to make changes in the existing app can feel free to contact us and get all their work within a budget.
Please contact us for quote and portfolio.