Hire Cutting-edge Full Stack Development Services Company Delhi, India. At RWS, we are providing on-demand full stack [Frontend | Backend] developer or programmer that fits for your Web application technologies. We have expert professional for Python, PHP, React, Node, Vue & Angular Js.
Today people are looking for full stack Development Company who can manage everything when it is about websites or even applications. There was time for web designer or developer but now it's time for full stack development. These are companies who manages both frontend and backend of the website or application. So, we at Raghwendra Web service have professional and experienced developers who can manage the project with help of team. Full stack development will handle database, user interface and accompany clients during planning.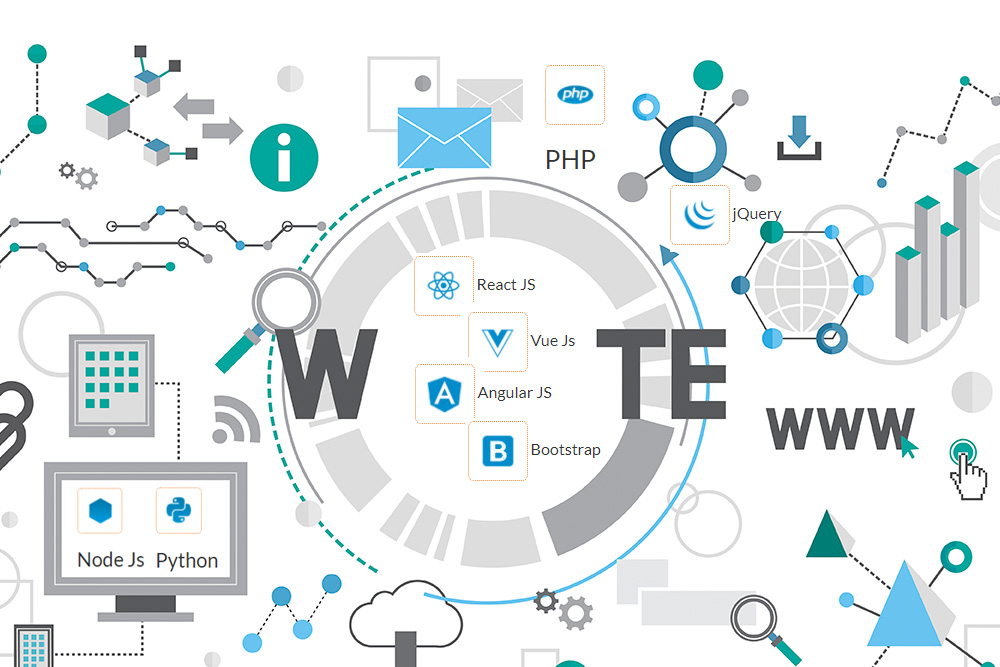 Front End Web Application Technologies
We are working on most powerful Front end technologies.


Looking for frontend solutions
Back End Web Application Technologies
We are working on popular open source backend web application technologies.

PHP
Custom PHP web development holds great importance when it comes to designing or improving your website. Not only does it enhances the look and feel of your website but also improves the functionality of the website. Assistance of custom PHP web application development solutions can help your website reach to top ranks in search engine results. Read More >>

Node Js
Node.js(Node) has grown to become one of the top backend web application technologies. Our team experienced in Node.js i.e. an open-source JavaScript and cross-platform run-time environment. Are you looking for a Node JS Developer in Delhi to work on the web, network, mobile, or real-time applications? We partner with you and offer full life cycle services.

Python
Are you looking for quality product that looks as stylish, you should be using Python. The Python language is free utilising as it is developed under an OSI-approved open-source license. The RWS development team build programming solutions primarily based on international coding standards and unique requirements of client.
At RWS, we are working on PHP based CMS web application development i.e. Drupal, WordPress, Magento, Joomla and etc. Read More >>
Full stack development company work with different technologies like React JS, Angular JS, MySQL and many others. In all our clients can get a complete solution for app development and website within their budget. Our team works single-handed right from acquiring requirement, planning, designing and development so that clients can get the best product.
How we can help you?
We at Raghwendra Web service are working to build relation with clients and so try to satisfy all their requirements to come up with bets product. The thing which makes us stand different from others is the skill set of our developers. Technology changes with time and so our company goes with flow where teamkeep on expanding their skills to meet the advance technology and needs of customers. We are not restricted to any time limit and so you are free to connect with our full-stack development team at your own time. Flexible timing has made it easy for the team and clients to stay connected for the ongoing project.
We are serving in different areas like banking, finance, education, fitness and must more. The experience and in-depth knowledge of our team have made it possible to come up with the best solution. We are offering our services at an affordable rate so that even a small business owner can seek a solution.
Full stack development services
We are available for technical support and regular maintenanceof the product.
We are offering hourly basis or part-time services depending on the requirement and budget.
Our team delivershigh-quality product within the time frame and budget.
Our development teamcreatesengaging and captivating user interface that can easily grab attention.
The front end of the product is very important and so team makes sure to come up with an interactive interface.
We have certified and experienced team to fulfil business goals.
We at Raghwendra web services are offering services for both web application and mobile development.
Our team compromises of full stack development team who can handle front end along with back end. They have one-to-one communication with clients which helps to complete the product within the given deadline. The team is best at testing so that there is no scope of error. So, if you are also looking out for any such product connect with our developmentcompany to get you the best product. Our company uses variety of tools and methods to give satisfactory product to our customers.