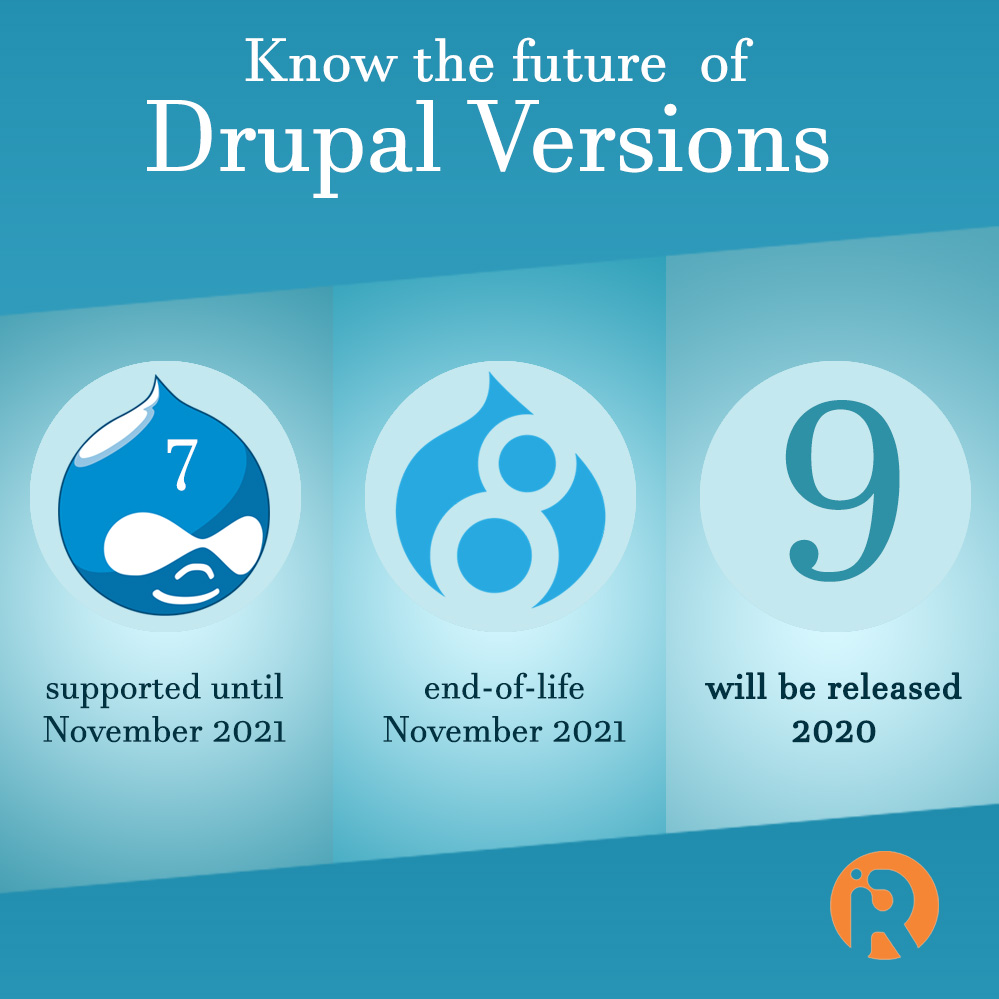 Drupal release update by Dries Buytaert from his blog for Drupal version 7, 8 and 9. After discussion with Drupal 7 core committers, the Drupal 8 core committers and the Drupal security team, he shared the long-term engagement of Drupal version 7, 8 and 9.
Drupal 9 will be released in 2020
Drupal 9 has to be released in 2020 as Drupal 8 comes to an end by 2021. The site owners will be given 1 year to upgrade from Drupal 8 to Drupal 9.
Moving from Drupal 8 to Drupal 9 is very easy compared to the previous major version upgrades. The contributed modules will be compatible with Drupal 8 and Drupal 9 at the same time.
Drupal 8 will be end-of-life November 2021
The end of Drupal 8 will be seen by Nov 2021.
New functionality in minor versions are seen in Drupal 8 which maintains the backward compatibility and because of this approach the release of Drupal 9 is not encouraged. This cannot happen as Drupal must be kept modern, maintainable and more secured to supported versions of 3rd party apps.
One more biggest dependency in Drupal 8 is Symfony 3. Symfony 3 comes to an end in Nov 2021 which means that after Nov 2021, bugs in symphony 3 will not get fixed and hence Drupal 8 has to see its end by Nov 2021.
Drupal 7 will be supported until November 2021
Drupal 7 will be supported till November 2021. Drupal 7 will be updated to support newer versions of PHP and therefore the PHP team will not support the following on the respective dates:
PHP 5.x on Dec 31st 2018,
PHP 7.0 on Dec 3rd 2018,
PHP 7.1 on 1st Dec 2019 and
PHP 7.2 on 30th Nov 2020.
Conclusion Which versions of Drupal we can use?
If you are on Drupal 7 update your PHP versions and you may to stay on it till 2021 and can go with directly on Drupal 9 later.
If you are on Drupal 8, just keep the site up to date and get ready for Drupal 9.
Source: Blog by Dries Buytaert (Founder and project lead of Drupal): https://dri.es/drupal-7-8-and-9