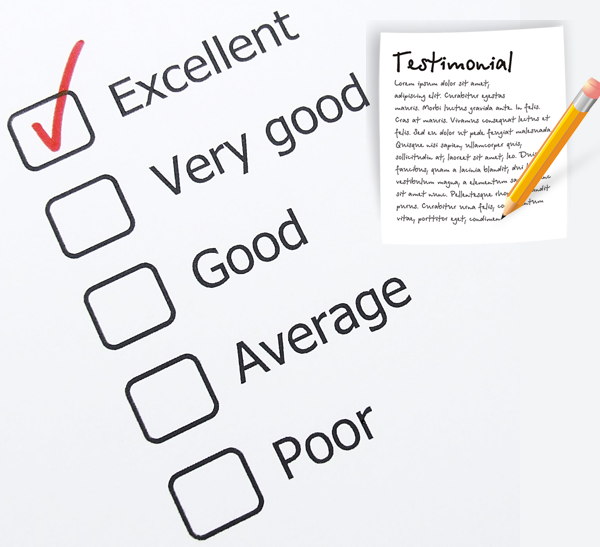 The Client Listings
The Client listing and testimonials plays a pivotal role in facilitating small businesses and corporations to run a successful online business. It is a kind of validation by a third party by sharing their experiences thereby exhibiting a sheer trust on that particular business. It is in fact a matter of great concern for the potential customers to know about the company business's clients and what they say about company's business owing to their personal experiences. People would be more curious to see the customers if they are big names of the market, be they search engine optimization professionals or running an online web designing business. But this would require permission from those whom accompany wants to list them as its customers.
In the modern world, the most prevalent form of validation is to have an active presence on the social networking websites and blogs particularly by those serving the industry.
Now days, even small positive words may take the businesses world-wide due to the WebPages on which they are being advertised There are a plenty of forums for potential clients to give testimonials about the company's work. The recent surveys have proved that positive reviews by the potential customers on these forums do not only give a boost to company's business but also facilitates in validating company's name and building client's trusts.
Significance of Online Testimonials
Testimonials and reviews are significantly important for small website development  company. Online reviews/ testimonials have countless positive outcomes but they have proved hazardous to domestic businesses as they have hampered its growth. Online reviews/ testimonials provide the potential clients with an opportunity to inform and guide them before purchasing a particular product. It is not that easy to seek a positive customer review for a business and the business owner have to specially ask their customs to leave a good review. These positive testimonials may help you a great deal in running a successful business.
Requesting a Testimonial
As the importance of positive feedbacks cannot be denied, some of the customers are reluctant to give them as they think that a good product automatically gain popularity and does not need any reviews…
In case if you have a willing client, ask him to write their positive reviews or success stories. This can be done via email in which you can send a few links of the places where the customers need to put their positive feedback. It is equally important to thank every customer for writing their testimonials as they are helping your business in growing to a great deal.
Handling with a Bad Review
It is not uncommon to have a dissatisfied customer, who leaves an unpleasant testimonial on a public forum thereby making you unhappy. The question arises that what has to be done in this regard. Firstly, the businesses should make efforts to build up more positive reviews to make the bad ones less effective. Secondly, the non-satisfied customers should be responded on the public forums which would a leave a positive impression on your customers that you open heartedly accept all criticism and your determination to resolve online customer issues would exhibit your pro-activeness and sympathy for the customers.
Conclusion
Reviews can be given by many people with a different approach. Selling is not the only thing, testimonials are connected to, but they are surely connected with the company's business connections and the dealing behavior you keep with your customers. Credibility is very essential to spur the growth of company's business. The testimonials if used strategically and intelligently may help you in promoting a successful business. Your increased visibility on the internet and a good reputation may give you a long lasting success than ever.
As a matter of fact, the visitors on your website are wise enough to leave you as soon they see your hard behaviors regarding sales. They will not believe you further for whatever promises you make with them for this harder approach.
In case of not having any testimonials at present, one has to strive for it which is very easy for them. They only have to send emails to their customers and ask for their reviews on their business and services. Satisfied customers will actively do it.