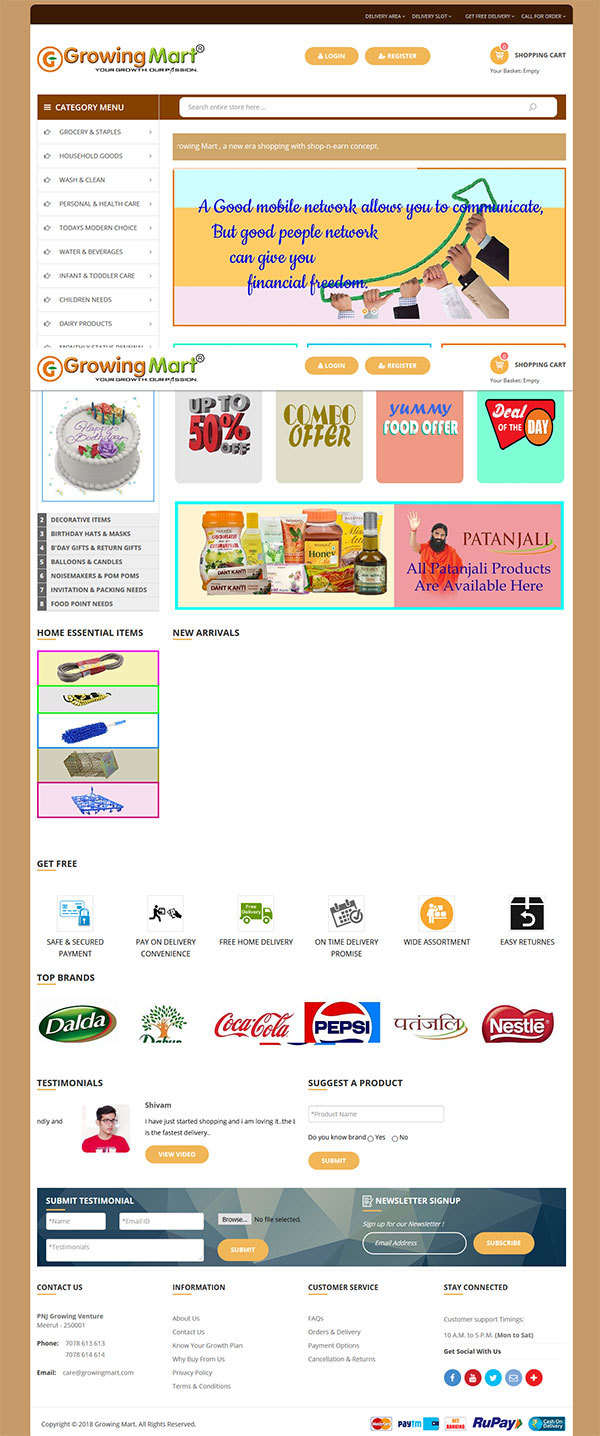 Brief of Ecommerce Solution Ensuring that a low cost yet well maintained ecommerce website is up for meeting online grocery shopping needs is the reason why we have developed growingmart.com. Being a search engine friendly and social media friendly website, the visitors can easily find it on Google search engine results pages. The feature of browser compatibility works wonderfully by allowing the website open up on all browsers in the least possible time. Adding new products and managing stock level is possible in a quick manner. A person with basic knowledge of computer skills can easily operate the website.
Choice of Ecommerce Package - Custom PHP/MySql application using jquery has been chosen as a framework to reduce the unwanted costs involved in creating and maintaining the site. This ecommerce website is quite a fully featured site which allows maximum possible expansion facility in terms of adding new products at regular intervals of time.
Outline- Growing Mart, a fully responsive website has an integrated payment gateway accepting credit card payments. Payu and single page checkout are some of the offbeat features that have been configured during development of the website. The built-in feature to update the website on day-to-day basis for process ordering makes a part of comprehensive administration system. The hosted and managing maintenance are teamed up together to give an excellent outlook to the website.
Web Address - http://www.growingmart.com/
The standard features of Growing Mart Ecommerce solution are as below:
Unlimited Categories
Unlimited  Products
English Language
Currency in INR 
Product Reviews
Product Ratings
Tax Rates if any : GST included
Related Products
Information Pages
Shipping Charges on fixed order amount
Discount Coupon System
Search Engine Optimization (SEO) friendly website
Printable Invoices
Sales Reports – Date wise report to pick the sell
Responsive web pages
Guest Checkout
Customer Login / Register
Customer will be login using social media
Dashboard after login
Social share icon on pages
Browser compatibility
SMS Gateway integration
Payment gateway payu or any other payment gateway integration will be discuss about it later.