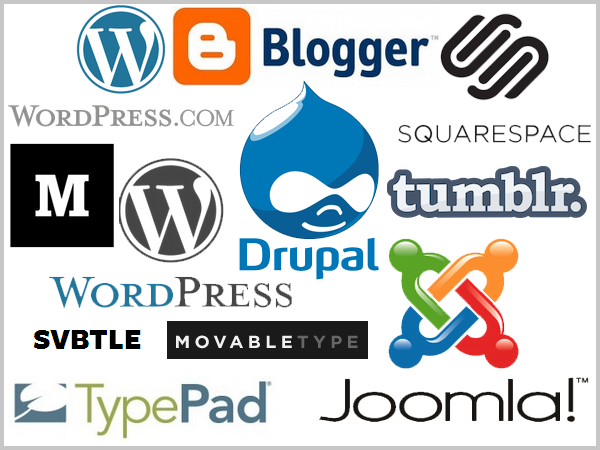 Blogging is a way to voice your opinion on a topic of interest. With social media popularity on the rise, bloggers can reach millions of people and present their opinion before them, with just a click of mouse. However, before you start blogging and know more about blogging benefits, it is also essential to know about various blogging platforms available before you. A lot of blogging platforms are available on the internet from which you can choose your own. Some of the best blogging platforms are:-
1. WordPress
WordPress (in short wp) is known to be the top ranked self hosted or hosted blogging platform. Due to its easy usage and flexible nature, it is majorly used in content management system. Allowing a number of free and premium themes to the end user makes WordPress stand out from the rest of blogging platforms. Moreover, the level of community support that this platform offers is another remarkable feature which isn't otherwise available with other platforms.
2. Tumblr
Tumblr is a hosted blogging platform website which combines the features of both semi-micro blogging and full-on blogging. There are a range of blogging themes which one can choose from.
3. Blogger
Blogger has been working in the blogging platform domain for quite a some time from now but when compared with WordPress, majority of the people are most likely to choose wordpress over blogger. The reason behind the same is that blogger doesn't offer much features to its users which are otherwise provided by WordPress. However, since blogger is a hosted platform and is easy to set-up, people do consider it to voice their opinion.
4. Weebly
Weebly is quite easy to use blogging platform which is popularly used to create websites and blogs. Although, it is easy to navigate due to excellent SEO capabilities but, somehow it is not still considered as the best blogging platform. Putting a post in it takes much time when compared with other blogging websites. Above that, editing HTML and CSS is quite a tricky affair. Since it costs more than other platforms, you will be left penniless.
5. Movable Type
This is a self-hosted platform. Movable type blog is quite a powerful blog like WordPress which is generally used by quite high traffic blogs. The major benefit of using the movable type blog is that it is easy to run blog and one can run multiple blogs on a single install. Although WordPress is still more popular than Movable type, but when it comes to open source arena, there are quite a lot of improvements made by Movable type. In fact, this open source platform has helped develop the community which has made this platform highly in demand.
6. Expression Engine
This platform is a self-hosted platform which is used by several bloggers. There are several powerful features which makes this platform more flexible than other blogging platforms. Just like movable type, this platform has multi-site publishing capabilities reaching across various domains and sub-domains. However, Expression Engine is not free to use as it comes along with a price.
7. Joomla
Joomla is yet another self-hosted blogging platform. It is full CMS and is used to create any kind of regular website be it ecommerce, blogs or even social networks. Not only it is powerful but even easy to use and is backed by a huge community. It is the flexible nature of this platform that makes it list among top fifteen blogging platforms.
8. Drupal
Drupal is a self-hosted cms blogging platform. You can find many similarities between Drupal and WordPress. However, the difference between the two lies in the fact that Drupal is a community oriented site and possess the flexibility in running any kind of site. With a passionate community to boast about and plugins available, Drupal is known to be one of the most powerful blogging platforms. However, themes are somewhat difficult in case of Drupal as compared WordPress.
9. Penzu
Penzu offers an exciting and new approach to blogging taking into consideration the privacy of the bloggers and giving them the power to either share the posts with the world or not. It is more similar to a journal or diary but it does comes with integration of social media platform to some extent. The best part is that bloggers do not have to spend time messing up with control panel. One can really enjoy putting his thoughts with this platform.
10. Live Journal
Live Journal isn't so popular among masses but still it has a good amount of fan following. Live Journal comes for free and this platform is community driven as it comes with heavy dosage of social media integration and provides ample space for sharing the posts. However, this blogging platform requires you to deal with ads as well. It is quite a worthy blogging platform to check out.
11. Medium
Medium is a cool blogging platform which offers a feature that allows bloggers to edit and annotate other people's work while merging well with Twitter. However, there are some features of Medium which are rigid and is evident from the fact that there is lack of customization along with content issues for the writers.
12. Quora
This platform is ideally suited to those who wish to convey stories and impart wisdom related to a specific topic. The main benefit behind writing these posts are that Quora is backed by a strong community while the flipside is that it lacks personalization and doesn't give the writer a 'homely feel' like that of a personal blog.
13. Svbtle
Svbtle is the most beautifully designed blogging platform that allows writers and readers to easily jot down their thoughts and come up with new ideas. However, the disadvatange of joining this platform is that it is open to only selective users and doesn't have the commenting section.
14. SquareSpace
Popular among business users, they are used to create and manage various websites particularly ecommerce ones. This platform has a set of beautifully designed comprehensive set of features for easy access. But, it comes at an exhorbiant price.
15. Typepad
Typepad is perhaps, the oldest blogging platform and is used by thousands of bloggers worldwide. It charges its bloggers with a fixed amount and offers them a set of designs, unlimited storage and customer service. Moreover, it also emphasizes on reliability, is easy to use, less customizable and more powerful than WordPress.