Microsoft is about to purchase the business social media portal LinkedIn for $26.2 bn. The two companies made the announcement on Wall Street which amounted to $196 per share of LinkedIn. While Microsoft's shares dipped a 3%, LinkedIn experienced a rise by 49%.
According to the deal, the 430 million members of LinkedIn are being valued at $60 each. Founded in 2002, the company floated in New York with a value of $4.25 bn in 2012. LinkedIn says that in spite of the takeover, the company will retain its individual identity but hopes to "change the way the world works".
LinkedIn was seen struggling for the past few months and this takeover brings signs of hope. Shares dropped 43% this February at the New York Stock Exchange and forecasts didn't talk about any indication of betterment in 2016. A value of $11 bn was wiped off the value of LinkedIn due to the price collapse within one day leading to the lowering of its price of $101, a record low in the last three years.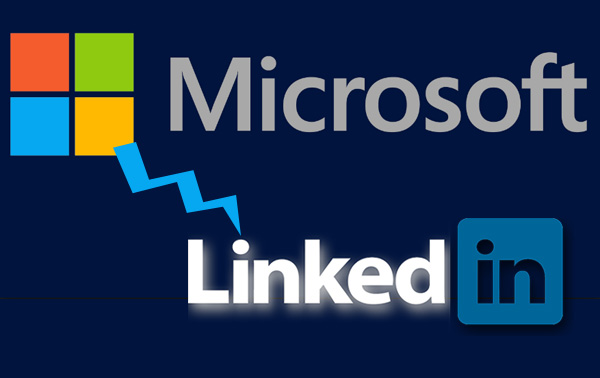 If the deal goes as planned, Jeff Weiner will continue to remain the president as he was but will report directly to boss and Microsoft head, Satya Nadella. Nadella spoke of the poisitive influence that Microsoft is likely to bring to LinkedIn. He said, 'The LinkedIn team has grown a fantastic business centred on connecting the world's professionals'. The merger ushers hopes about many more of such deals. Chris Beauchamp, market analyst at LG said, 'The use of debt rather than stock will reassure those that worry this is another sign of a market top, and will have the added benefit of raising the prospect of a buyer for Twitter'.