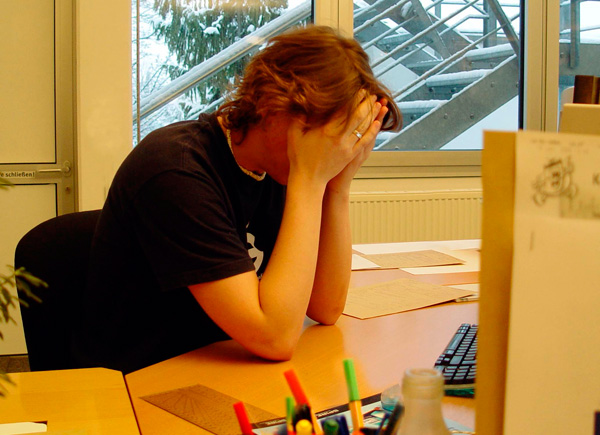 Everywhere, the employees are constrained to face the outcomes of cruel economies. Now "layoffs"
and "budget cuts" have become the most frequently used terms at workplace which ultimately result
in an uncertain, and fearful situation for the workers and which causes greater stress to them.
Various measures can be adopted to cope with the overall stress levels at workplace.
Career changing will be the only solution if the stress at workplace continues to be an issue despite all efforts.
Company may be responsible for the employers to tackle such
stress at workplace and to find out reasons for it.
Significant steps should be taken to prevent employees from any kind of stress and work some time on weekend to mimimze work load.
A company must ensure a secured environment at workplace.
A company must hire properly trained employees at workplace.
A company must address the issues and complains of employees, and take affirmative measures if possible.
A company must formulate a policy for the stress management while consulting the employees.
Encourage an environment where employees have more say over their duties, promotional prospects and safety.
A company should manage to have a human resources manager.
A company should not overload its employees with overtime and must appoint extra staff to make up the deficiencies.
A company should considerate the private life of the employees so that the work load may not disturb their private affairs
The organization should share necessary information with their workers to avoid any uncertainty pertaining to their job and future.
The organization should be clear in defining the duties and responsibilities of their employees.
They should make a friendly and efficient communication with their employees and not otherwise
The organization should provide their workers with every opportunity to make a due participation in decisions affecting their jobs.
The organization must consult their employees about working rules and schedules of different tasks.
The organization should not put unnecessary deadlines on workers which are unsuitable to them.
The organization should value the individual worker.
The organization should offer incentives to encourage them.
The organization should make a verbal as well as oral appreciation of the working efforts of the employees.
The employees must be provided with career building opportunities.
Cultivating a social and friendly environment can also be helpful in this regard.
The organization must facilitate a social communication between all his employees
The organization must ensure a zero-tolerance policy for harassment.
Make management actions consistent with organizational values.